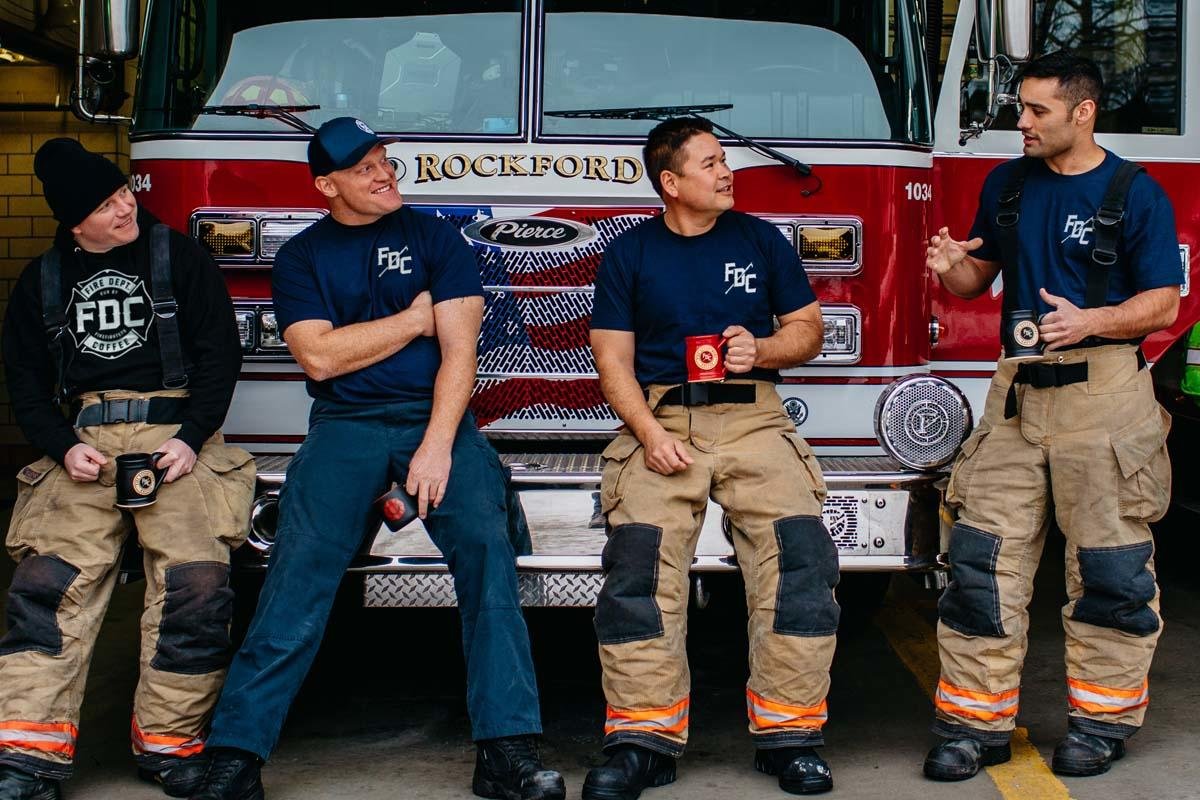 Luke Schneider joined the Navy just to have a better shot at getting his dream job: firefighter.
His plan worked, but it wasn't a direct route from the aircraft carrier Enterprise to the fire stations of Rockford, Illinois, where he's been a firefighter and paramedic for the past 11 years.
He entered the Navy in 2004 as undesignated and was originally assigned to the machinist's mate shop. Were it not for the senior chief petty officer in charge that day, he might have ended up there for his entire career. But Schneider asked to be sent to damage control — where the firefighters train — and the senior chief agreed.
Schneider ended his Navy career in 2008 as a damage control supervisor aboard the Enterprise; then, he went back to Illinois to achieve his lifelong dream. Four years ago, he took the passion he and his wife had for roasting coffee and turned it into a way to raise money for wounded first responders and the organizations that support them.
Fire Dept. Coffee was Schneider"s answer. He started it as a means of getting better coffee to firehouses and military units while helping out his fellow firefighters; 10% of all net proceeds go to this purpose.
Since separating veterans are often looking for ways to get a job as a firefighter, the former sailor, firefighter and Fire Dept. Coffee founder talked to Military.com about how to do just that.
1. Find Out Where You're Testing
When Schneider was looking for a job in Rockford, he was living in nearby St. Charles. The rules for joining the fire department in those municipalities could be different, so it is important to know the rules and regulations for the city where you are testing.
Also, fire departments have different criteria for passing those tests, different prerequisites and different means of gathering preference points. Most municipal fire departments will give preference to military veterans, but how much varies.
2. Know the Requirements
Before applying to the Rockford Fire Department, Schneider took classes in fire science at the local community college and became an EMT basic. He didn't know it at the time, but he didn't actually need a degree or the EMT training. He did earn a vocational certificate for fire science, but Rockford would send him to become a paramedic.
"It definitely looks good on the resume," he said. "And some departments require you to be a paramedic. Other departments will require an associate's or bachelor's degree. Others will just give you preference points for the degree. Again, it's very important to know where you're testing.""
3. Find Out What Gives You Preference …
… and what doesn't. Schneider joined the Navy to become a firefighter, but he almost spent his career as a machinist's mate instead of in damage control, fighting fires. If he had, it wouldn't have been the end of the world because he still got preference points at the Rockford Fire Department just for being an honorably discharged veteran.
The same goes for a degree. Even though Schneider's vocation is fire science, if he had a bachelor's degree in education, he might have tested at a fire department that gave preference points just for having any kind of degree.
4. Test as Much as Possible
Schneider says to test as much as possible.
"Study your core skills, like math — especially algebra — and English," he said. "Make sure your core strength is in those basic skills, then brush up on the test with a study book you can get at any bookstore. Then, test wherever you can. Once you get past the test, you can get an interview."
5. Pass the Physical Test
Don't just let yourself go when you get out of the military. You'll still need to be in fighting shape when you're fighting fires instead of terrorists. You'll need to pass the physical test after the written test to get to the interview portion. But don't worry. If you can pass a military PT test, you can pass the fire department's, Schneider said.
If you can't pass a military PT test, well, it's time to start training.
6. Practice for the Oral Exam
Written and oral tests are often a combined score, and the oral exam can really rescue your result if taking written tests isn't your thing. One of the things you can do is prepare heavily for this exam. Schneider said he took it one step further and pretended he was going in front of a Navy promotion board.
"I greeted them in the order of their rank. I waited to be seated and then everything was, 'Yes, commissioner, no commissioner,'" he said. "Keep your answers short, to the point. Be confident in what you say. They're judging you for a very short period of time. So you need to have your boots shined, your gig line fixed and you need to look presentable — clean, shaved, haircut, nails trimmed, all those things that you would do in the military."
7. Know About the Department You're Applying To
"You can almost expect certain questions," Schneider said. "Things like, 'Why do you want to be a firefighter?' and 'What do you know about our department?' If you do a little research on that department, you can be prepared for that question."
Schneider learned about the station's call volume, along with how many stations are in the Rockford area. Each are things you can easily find out in any municipality, and that's something that can make the difference between getting the job and taking another test elsewhere.
8. Mention Teamwork
The overall decision falls on the fire commissioners, but there are times where the fire chief will weigh in on who to hire. In Schneider's case, the chief told his class that everyone who was hired in the Rockford department mentioned "teamwork" in their job interview. That's how important the concept is to firefighters.
"If you don't work as a team, you fall apart," Schneider said. "It's super critical to have that mindset of when you're coming on a fire department, to be slow to talk and fast to listen. That's how you support your team members in the best way possible at first."
Fire Dept. Coffee has graduated from a five-kilogram roaster at Schneider's house in Rockford to having multiple roasts, decaf roasts and spirit-infused coffees. A portion of every sale goes toward helping wounded first responders as they recover. You can find Fire Dept. Coffee on its website.
— Blake Stilwell can be reached at blake.stilwell@military.com. He can also be found on Twitter @blakestilwell or on Facebook.
Want to Know More About Veteran Jobs?
Be sure to get the latest news about post-military careers, as well as critical info about veteran jobs and all the benefits of service. Subscribe to Military.com and receive customized updates delivered straight to your inbox.
Show Full Article
© Copyright 2020 Military.com. All rights reserved. This material may not be published, broadcast, rewritten or redistributed.